Largest shiplift completes China's Three Gorges project
---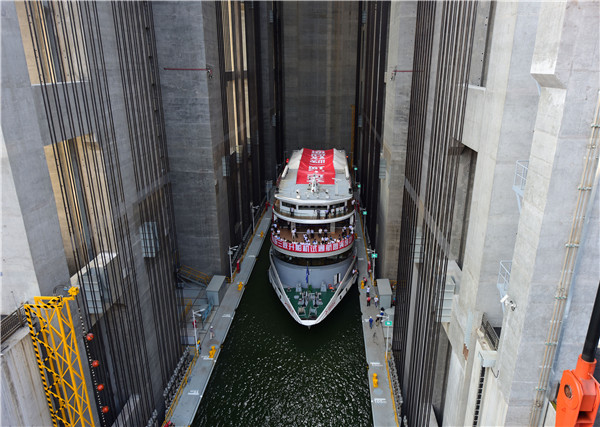 Photo: www.chinadaily.com.cn
THREE GORGES, Wuhan - The trial operation of the permanent shiplift at the Three Gorges Dam in Central China's Hubei Province began Sunday, marking the completion of the Three Gorges project 22 years after construction began.
The shiplift, designed by a Chinese and German team, is the largest and most sophisticated in the world, according to the China Three Gorges Corp., a state-owned company responsible for the construction of the Three Gorges project.
The vertical-hoisting elevator is designed to help small and medium-sized ships, with a maximum displacement of about 3,000 tonnes, to traverse the dam. The water level behind the dam is up to 113 meters higher than the downstream river.
The shiplift is equipped with a ship-chamber, which has a pool of water 120-meters long, 18-meters wide and 3.5-meters deep. The chamber, its mechanical systems and the water weigh 15,500 tonnes altogether.
The shiplift has been installed to complement the five-tier ship lock next to it, which is also the world's largest and has allowed ships to pass through since 2003. The ship lock is running at full capacity, with its cargo throughput standing at 119.6 million tonnes in 2015, compared with 34.31 million tonnes in 2004. The increase has been attributed to the booming water transportation sector along the mountainous regions of the Three Gorges, including the southwestern municipality of Chongqing.
It used to take ships about three to four hours to pass the dam via the ship lock. The shiplift will cut this time to about 40 minutes to one hour.