NEW YZER, Smallest Hoistway and Pit Depth Machine Roomless Elevator Launched
---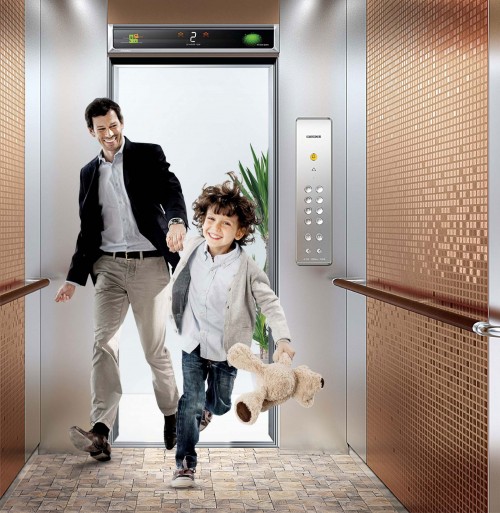 Photo: hyundaielevator.co.kr
- Sharing operation information with passengers through Smart Indicator
- Up building space efficiency and down construction cost, design constraints, and installation period
- Expansion of convenient functions including "anion air cleaner" and "ultrasonic harmful insects prevention"
Hyundai Elevator (CEO Han Sang-ho) launched "NEW YZER," with the smallest hoistway size and minimum pit depth in Korea.
"NEW YZER" is an upgraded version of "YZER," a Machine Room Less Elevator (MRL) introduced for the first time in Korea in 1999. "NEW YZER" makes possible to reduce construction costs and shorten construction period by minimizing hoistway and pit depth.
An official from Hyundai Elevator explained, "Compared to existing MRLs from other companies, we can reduce hoist size by up to 5% (width: 1850mm, length: 1570mm) (based on an elevator for 9 people) with "NEW YZER." "Building space efficiency is maximized by reducing pit depth (1100mm) and removing the machine room."
Many functions for the users' convenience were adopted. One of them is Smart Indicator.
Smart Indicator, which is composed of a wide LCD panel, shows basic information like current floor and time and elevator status information like closed circuit television (CCTV) and operation of power-saving mode. Additionally implemented are an air cleaner which generates anions throughout the seasons, and the ultrasonic harmful insects prevention function to deter the entrance of ants and mosquitos. Anti-virus material is used for the handrail.
What is also noteworthy is the adoption of the "touchless foot button (option)," which was developed for the first time in the world by Hyundai Elevator. Touchless foot button is used to call an elevator if a passenger has difficulties in pressing buttons when he cannot use his hands conveniently or when his hands are full. It is possible as the function recognizes the feet movement of a passenger.
An official from Hyundai Elevator said, "As is the case with automobiles, elevators will be developed not as a simple transportation means but as an emotional space with the increasing number of apartments and high-rise buildings." "We will make an effort to make an elevator 'of the customers,' 'by the customers,' and 'for the customers' with an aim to make an elevator that makes people happy," he added.